I'm using Lucerne as a case study for a multidimensional exploratory process. It started off as a painting, a therapeutic physical activity that took me back to my late teens.
The scene was selected from a day trip, 4 years ago. There is something magical about exploring an ancient city on a whim, with no clear plan of action, wandering through the streets and drinking in the atmosphere. My eyes are constantly scanning the buildings, asking myself questions, looking for new insights.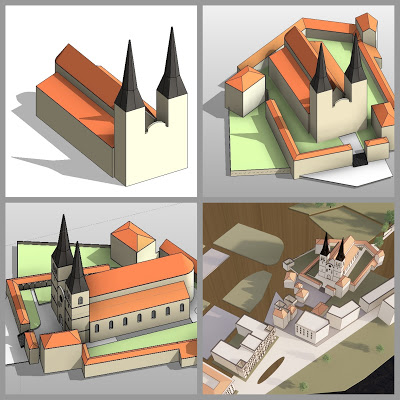 The central focus of the painting is a church. I decided to sketch this out in Revit. Switching to the digital realm takea my mind on new journeys. St Leodegar was a medieval monastery, so there were cloisters to rough out and sloping terrain to approximate. BIM sketching implies data and there are so many sources available now. Google earth, Wikipedia, image search terms. Very soon I am immersed in the William Tell myth and the emergence of the Swiss confederacy from Habsburg domination.
How not…