Sika, alley, ginnel, there are many words in different dialects for those narrow streets where life seems to press in with greater vitality on all sides.
This collage combines a filtered photo and two Revit views to convey the design process that lead to such a stunning result on the Al Seef project.
Achieving that random, casual look is not as easy as you might think. It was a pleasure to work with a highly talented design team and to help to convert their ideas into a data rich digital construction model.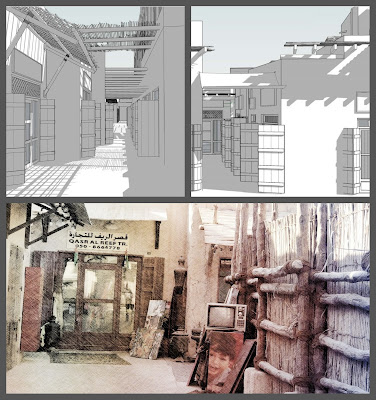 Al Seef was a brilliant project to work on. Lots of exciting content developments challenges.
There are pedestrian bridges that link blocks together at the upper level. Lots of different designs, never used more than twice.
I worked with Anes developing Revit families based on his hand sketches. Placing them in the project, and generating camera views for review and adjustment.
Happy Times for sure. You can't beat a collaboration between artists with different skill sets…