The CFP period for this year's AU has simply flown by – mainly because it's turned out to be a busy period between personal milestones and work travel – and today (May 15th) is the last day to submit your proposals for the event.
Over the weekend I went ahead and finalised last-minute changes to mine and clicked submit.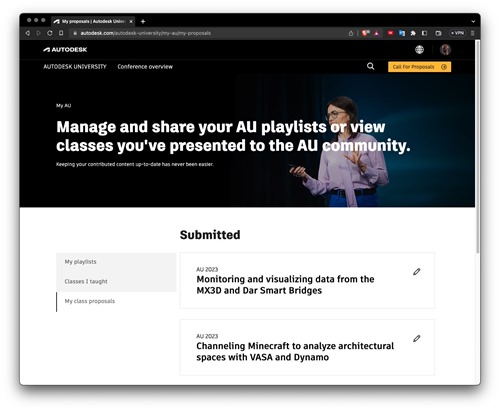 The titles (as shown above) are:
Monitoring and visualizing data from the MX3D and Dar Smart Bridges
Channeling Minecraft to analyze architectural spaces with VASA and Dynamo
Both are variations on proposals I submitted for last year's event (but obviously weren't selected), so I'm hoping the additional time and energy I've put into crafting this year's versions pays dividends. We shall see.
There's a fun tab in the "My AU" page that lists the classes you've taught, over the years, going back to 2013. My list contains a few I'd forgotten about (mainly classes I was involved in as a panelist or co-speaker). I'd love to see the list going back…