Woke up this morning to this view of
Saltaire. Dignified worker's housing from the 1850s in a healthy countryside
setting.
Small pane sash windows in the original style frame the
view of houses across the street that have been "upgraded"… I think
before the current heritage status was in place. All the same it works for me.
A development of this quality is robust enough to
withstand a certain amount of abuse. If anything, the scars and blemishes help
to tell its story. There is a fine line between maintaining a tradition and
ossifying into a stale museum piece.
Saltaire offers a glimpse back in time, but it's still
alive. What a privilege to be here again "in the flesh" just for a
day.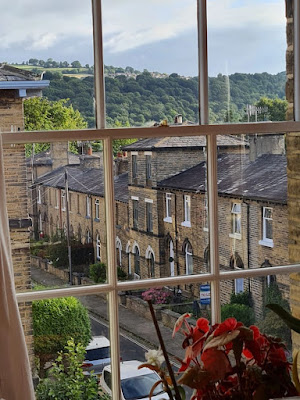 Disgorged from Liverpool, Lime
Street, I bumped into St George's Hall, unawares. I'm not sure what to think.
It's almost as if it was assembled like a train. (let's stick on another
carriage just for fun)
Then I found out it's the result of the same architect
winning two different…